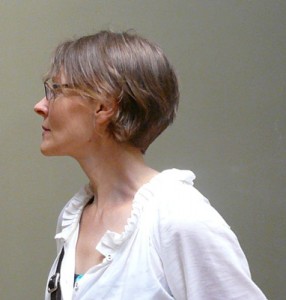 Puchala's formative years in Montreal and Sudbury shaped her artistic vocation. A city of longing and a mining town respectively, the two centers were filled with holes; fragmented narratives, both real and imagined, bound in a tension that sought negotiation by way of a creative vision.After working as a commercial artist for 11 years, Ina sought further validation by attending the Ontario College of Art (nka OCADU). In 1992, she earned an Honours' A.O.C.A diploma in drawing and painting, along with garnering several awards and scholarships.  From 2001 to 2005, she was a scenic painter for the National Ballet of Canada. Alongside her professional art practice, Ina continues to work as an artist educator and facilitator.
On the subject of PAINT:
Puchala's intensive manipulation of paint is indicative of her fascination with paint as a substance.  Her opulent paintings clearly manifest a duel between application and excavation.  Her oil drawings at times reflect a staccato usage of paint yet produce a poetic surface.
Puchala creates in temporal succession; an evolution of series.  Her bold sense, and her use and arrangement of colour, dictate the expressive and abstract compositions of her works. In addition to a distinct technique, colour plays a major role in distinguishing a sequence.  Whether applying a monochromatic palette or a colourful one, Puchala tinges her canvases with a single prevalent tone or a recurring colour palette as part of a series.
She has produced several solo exhibitions, exhibited in various public venues and has participated in many juried exhibits throughout Southern Ontario.
Ina Puchala's abstract expressionist work is part of several private and corporate collections:
Pratt & Whitney Canada (Toronto)
Egon Zehnder (Toronto)
IPSOS Reid Group (Ottawa)
Response Innovations (Toronto)
She presently lives and works in North Bay, Ontario, Canada.